Databox 360 have brought a ground-breaking AI built Cyber Risk Management platform to the United Kingdom. With one click, we can instantly analyse, understand and report against the entire Cyber Health of any business. Regardless of organisation structure, jurisdiction or size or the business- it's instant.
Regarded as the Next-Generation Innovation of how organisations assess and manage cyber risk, our 'Credit Check' for the Cyber world, will be leaned on by all organisations of the future. We give clear, simple and transparent analysis of a business's Cyber Health with the click of a button.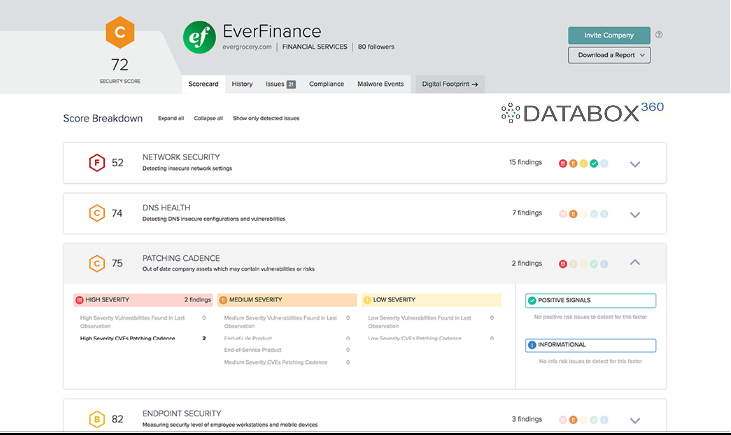 "A beautiful 360-Degree illustration across the major cyber risk factors that are associated with every business on the planet. Seamless, Eye-Opening & The Future of the Cyber Risk movement." – Liability & General Insurance
Reducing Inaccurate Insurance Premiums Globally
Cyber Insurance is now being widely purchased by businesses across the globe. With businesses now being digital by default, Cyber Insurance is designed to protect your organisation from data breaches and financially support you should a data attack or breach occur.  Our Cyber Security reports analyse a central portfolio of risk factors through the use of artificial intelligence.
With instant assessment, we can derive weaknesses in your DNS health, Webs Application Security, Hacker Chatter, Network Security and Endpoint Security to name a few. When this information is provided to your insurance broker, insurer or underwriter- they no longer need to rate your premium conservatively. We support reductions in premiums with fact's, scoring & Analytics to sustain.
Penetration Testing and Ethical Hacking
A Penetration test is widely known as a 'Pen-Test'. This is a pre-authorised, simulated attack on your computer systems and network which we perform to evaluate the security of your systems and processes. We successfully do this by using the same tools, techniques and approach that an adversary might.
It is the most effective, holistic and rigorous approach to identifying both strengths and weaknesses of the clients that we are appointed by. The main aim of this process is to gain access to your systems and data, understand how we managed it and execute change to prevent a real occurrence.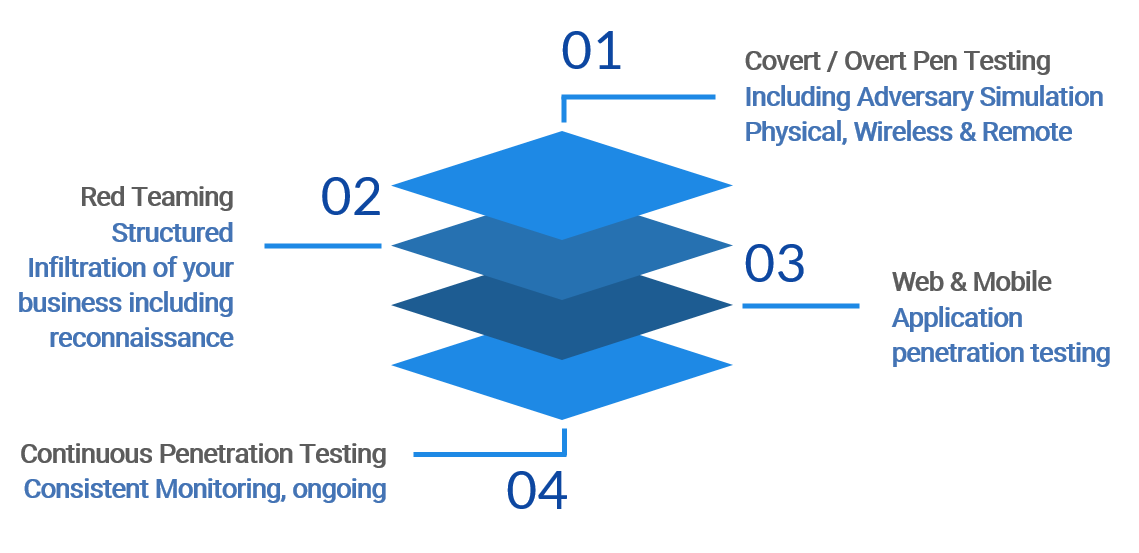 Get Your Personalised Security Health-Check today. Our Consultants & Experts can provide instant and easy to understand visualisation of your complete 360-Degree Cyber Risk.
Next-Generation Cyber Scoring Capabilitie, Databox 360
Our clients use our Cyber Scoring functionality to improve a myriad of Security Management Processes. Remediation The report will automatically generate the best remediation advice that deals with exactly what exposure and issues, you need to focus on first. Benchmarking We will help your better understand your Security Ratings by benchmarking you against your peers in your industry.
Interactive Sessions
Working with you to identify and proceed with the best remediation path for your organisation. Our interactive sessions can determine how to improve your score.
Accurate Calculation 
Helping you to understand and accurately calculate the impact that improvements will have on your Cyber Security Performance Score.