Providing A Virtual Chief Information Security Officer (vCISO)
Databox 360 – bridge the cyber security knowledge gap in your business with an on-demand expert.
In the face of a global skills shortage, recruiting a dedicated professional with the knowledge and leadership required to prepare and execute a successful cyber security strategy is time-consuming, expensive and often, simply not viable.
Databox 360's vCISO is an outsourced 'security specialist' who offers their time, insight and leadership to your organisation on an ongoing basis. They are available remotely or when needed whether interim or as an addition to existing management team. By acting as an extension of in-house resources and fully understanding business needs and strategy, a Databox 360 vCISO can help to assess cyber-risk plus develop and implement the policies, procedures and controls needed to strengthen defences and achieve compliance standards.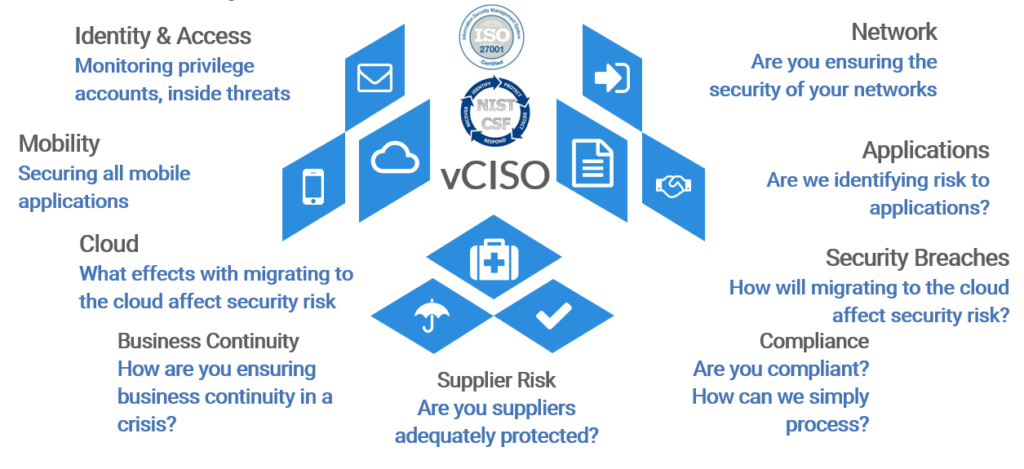 Risk Management Framework: NIST SP 800-60, SP 800-53, SP 800-70, SP 800-53A, SP 800-37, SP 800-137
"90% of Chief Information Security Officers state that data breach and information risk is treated the same as corporate risk in their organisation."-ClubCISO
Next-Gen Antivirus (NGAV)
Modern attacks of ransomware and advanced phishing are evolving therefore your Antivirus needs to evolve with it to keep your operations, data and finances, protected.
"Next-Generation" attacks require the Next-Generation of antivirus (NGAV).
Databox 360 provide artificially intelligent antivirus which are capable of stopping more attacks, uncovering more threats and closing the security gaps left by traditional Anti Virus Softwares. Databox 360 distribute solutions that are purpose-built to utilise cloud-based analytics and intelligence. Delivering a more dynamic, proactive approach to endpoint security.
"Until Databox 360 reviewed our Antivirus software and antivirus implementation practices across the group, we had no idea how out-dated our protection was. It was effortless to replace yet exceptionally technical in how it protected our business. Mind-blowing"-Sovereign 2019
What is NGAV?
Next-Generation Antivirus solutions prevent all types of attacks, known and unknown, by monitoring, responding to attacker tactics, techniques and procedures (TTPs), providing security administrators with real-time response capabilities, data science, predictive analytics, and threat intelligence.
Next-Generation Antivirus takes traditional antivirus software to a new, advanced level of endpoint security protection. It goes beyond known file-based malware signatures and heuristics because it's a system-centric, cloud-based approach. It uses predictive analytics driven by machine learning and artificial intelligence and combines with threat intelligence to:
Detect and prevent malware and file-less non-malware attacks
Identify malicious behaviour and TTPs from unknown sources
Collect and analyse comprehensive endpoint data to determine root causes
Respond to new and emerging threats that previously go undetected.
There is an abundance of reasons why Next Generation Endpoint Protection is the only viable replacement if your business has outdated and AntiVirus that is not fit for purpose.
Viruses are becoming increasingly 'file-less' meaning that an Antivirus that simply scans documents, will no longer protect your business completely.  
Speak to Databox 360 and see how simple, seamless transition to End-Point AI Protection can save you time and money.
"The Number of ransomware attacks worldwide rose by 350% in 2017."-Global Threat Intelligence Report
Join The World's Most Secure Businesses
Databox 360 deliver the first cloud-native endpoint protection platform, specially designed to stop breaches of data. We harness the power of big data and artificial intelligence to empower your team and business with instant visibility and protection across the entire organisation and threat life cycle. We work seamlessly to replace outdated antivirus, consolidate agents and restore endpoint performance.